3D printing from

flexible materials



Efficient solutions not only for the manufacturing industry
3D printing from rigid materials is a well-known concept today. Less well known is the possibility to print from flexible materials. And for production fixtures, for example, flexibility is often a great solution.
Flexible materials are difficult to machine conventionally and are expensive to produce by moulding. 3D printing is thus a very interesting route for creating products from flexible materials. For tooling or prototyping, it is often particularly appreciated by companies in the automotive and industrial manufacturing sectors.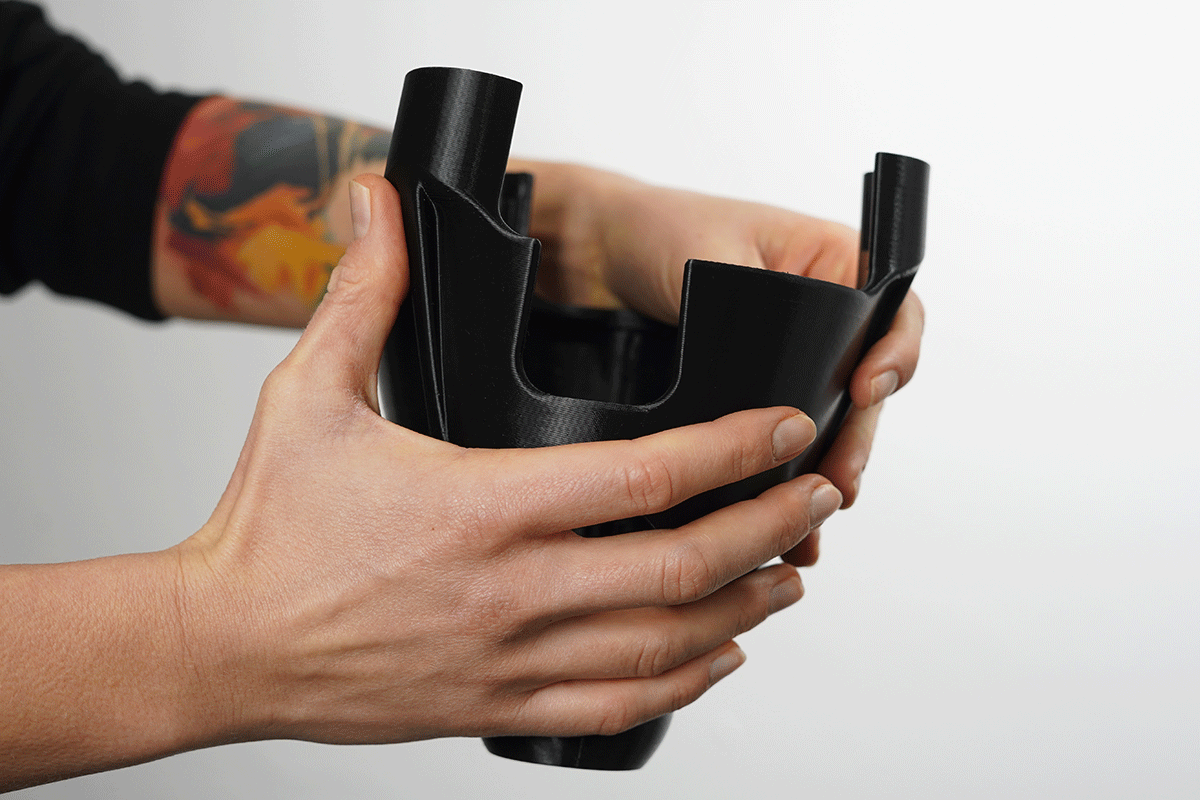 In tooling, for example, it offers a number of
unique features
1  It's virtually unbreakable
In terms of mechanical durability, it is an almost immortal material.
2  It is chemically resistant and does not suffer from oil absorption
It can stand up where conventional plastics may have problems with oil absorption.
3  Will not damage the product being manufactured
Can move precision-ground parts where there is otherwise a high risk of scratching.
Output QC jig, automotive industry
Solid but virtually unbreakable print
A component from Vibracoustic designers. The key feature is the long service life of the product and also the softness of the component on which the output inspection is carried out.
Material: TPU 98A (Fillamentum)
Printing time: 27 h 47 min
Dimensions: 152 x 168 x 179 mm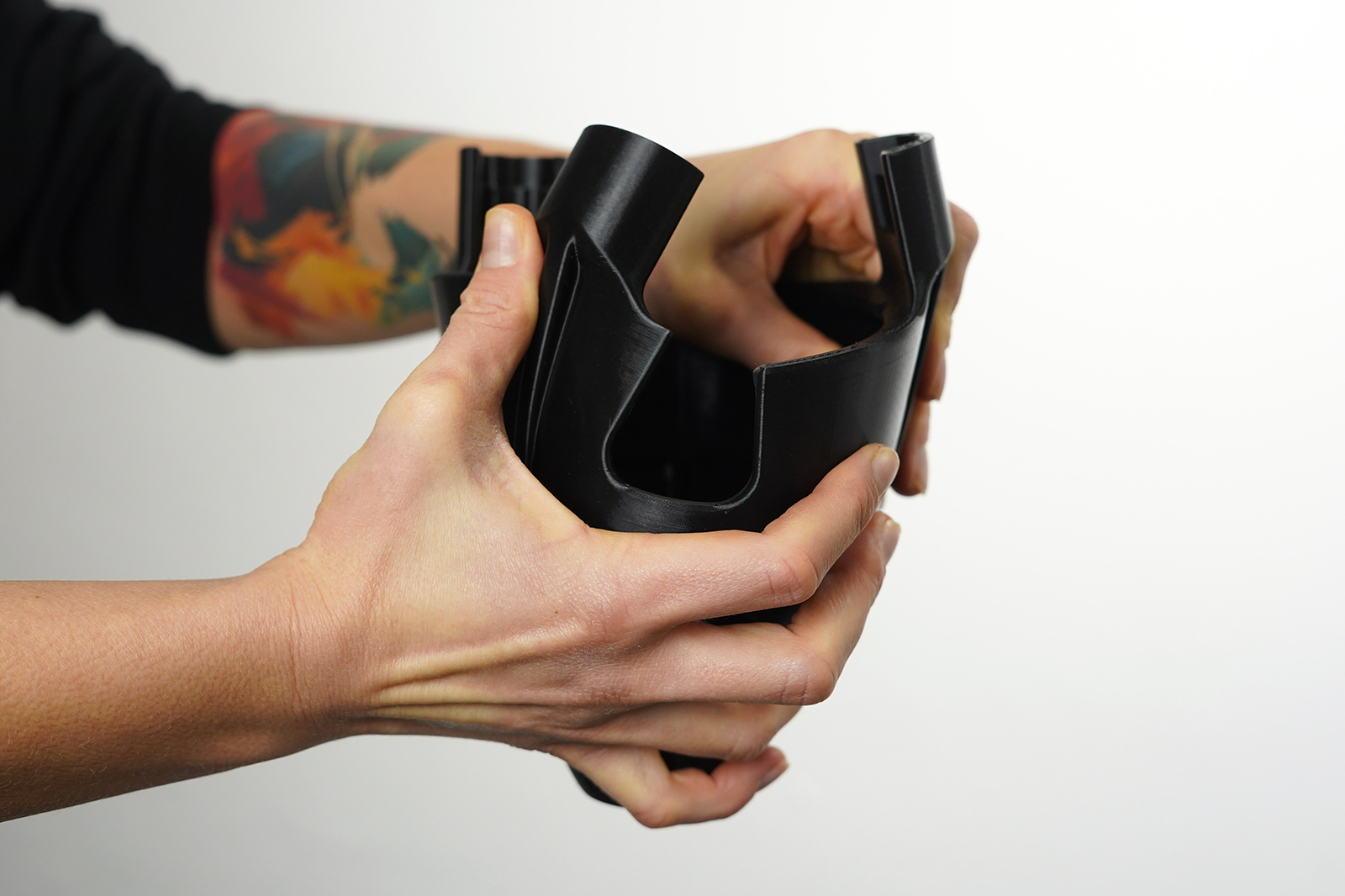 Walking shoe sole prototype
Flexible 3D printing
Wide range

of printing filaments
Flexible filaments are soft and flexible and are made from thermoplastic elastomers and soft rubber materials containing other additives. TPE, TPU or TPS are the most commonly used. The elasticity of the fibres is measured in Shore hardness. There is a wide variation, from very soft to hard materials that are harder to bend.
TPE (thermoplastic elastomers)
It is ideal for making products that are designed to absorb shock. One of the advantages of this elastomer is that it is certified for use in contact with skin or food.
TPU (TPE - U : thermoplastic polyurethane)
It has several other advantages over TPE. It has greater resistance to abrasion and chemicals such as oils, greases and some solvents. It also shrinks less. And it retains elasticity better at low temperatures.
TPS (styrene-based thermoplastic elastomer)
This is a soft flexible fibre. It is ideal for 3D printing the sealing rings of non-slip feet. It offers a large degree of elastic (reversible) deformation.
Higher flexible models only with
delta printer
TRILAB DeltiQ 2 Plus
The TRILAB DeltiQ 2 Plus with FlexPrint 2 extruder and printable height of 50 cm is the ideal machine for printing from flexible materials.
If you need to print a taller or wider object, then a 3D printer with the delta system is what you need. The first reason is that you have a solid base. This is because thanks to delta kinematics, the vibrations of the printer are not transmitted to the printed model.
TRILAB FlexPrint 2
The second important thing is the extension of the TRILAB DeltiQ 2 3D printer, which is called FlexPrint 2. So another extruder. This allows you to print flexible features while maintaining a lightweight print head. Because the heavy motor stays on the frame.
Thanks to the lightweight print head and solid backing, you get a perfect surface over the entire height of the model, even when printing flexible materials that can be up to 50 cm high.
Application demos and delta system

in video
TRILAB FlexPrint 2

in automotive


"TRILAB DeltiQ 2 with the FlexPrint 2 extension has shown us the way to print and use flexible materials that were previously virtually impossible to use. On the 3D printer, we most often produce stops, stoppers or shifters for production lines from flexible materials."
Jaroslav Kaplan
toolshop leader
Koyo Bearings/JTEKT
Get information about pricing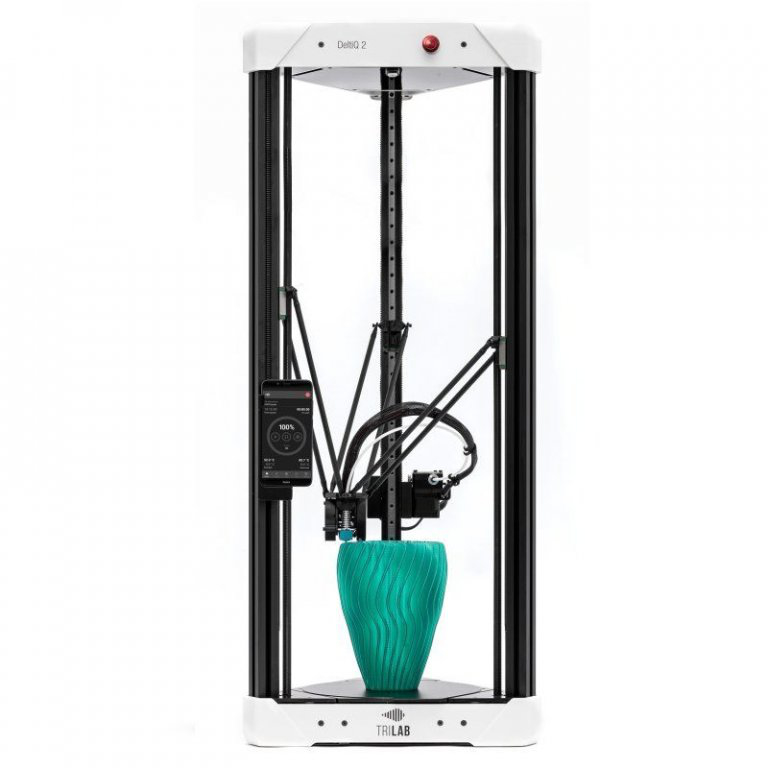 Find out under what conditions you can purchase a TRILAB 3D printer with the ability to print flexible materials directly from the manufacturer and what other follow-up services are available.