They are established through many years of experience. Whether you are looking for a printer to facilitate production or in the laboratory, you will not be left out with our printers. Thanks to the delta kinematics used, it allows you to create simple and complex models, often with a minimum amount of supports, thanks to which you will be done much faster than other FDM printers. In addition, we wrapped the printers in thoughtful designs that simply demand your attention.
TRILAB AzteQ Dynamic
The TRILAB AzteQ Dynamic professional delta printer is the ideal workhorse for high-volume printing of PLA, PETG, PA-CF or PC-CF and meets the requirements of customers who appreciate the versatility of the AzteQ series, superior surface quality, high print volume but do not require an actively heated print chamber.
TRILAB AzteQ Industrial
This professional delta printer features a closed printing chamber for exceptional 3D printing without material or spatial compromises. The swappable magnetic printhead is equipped with an auto-calibrated strain gauge allowing for even easier 3D printing.
Our development does not simply end at 3D printers. Because our printers are highly modular, we can develop various extensions that will make it easier for you to work with your TRILAB printer.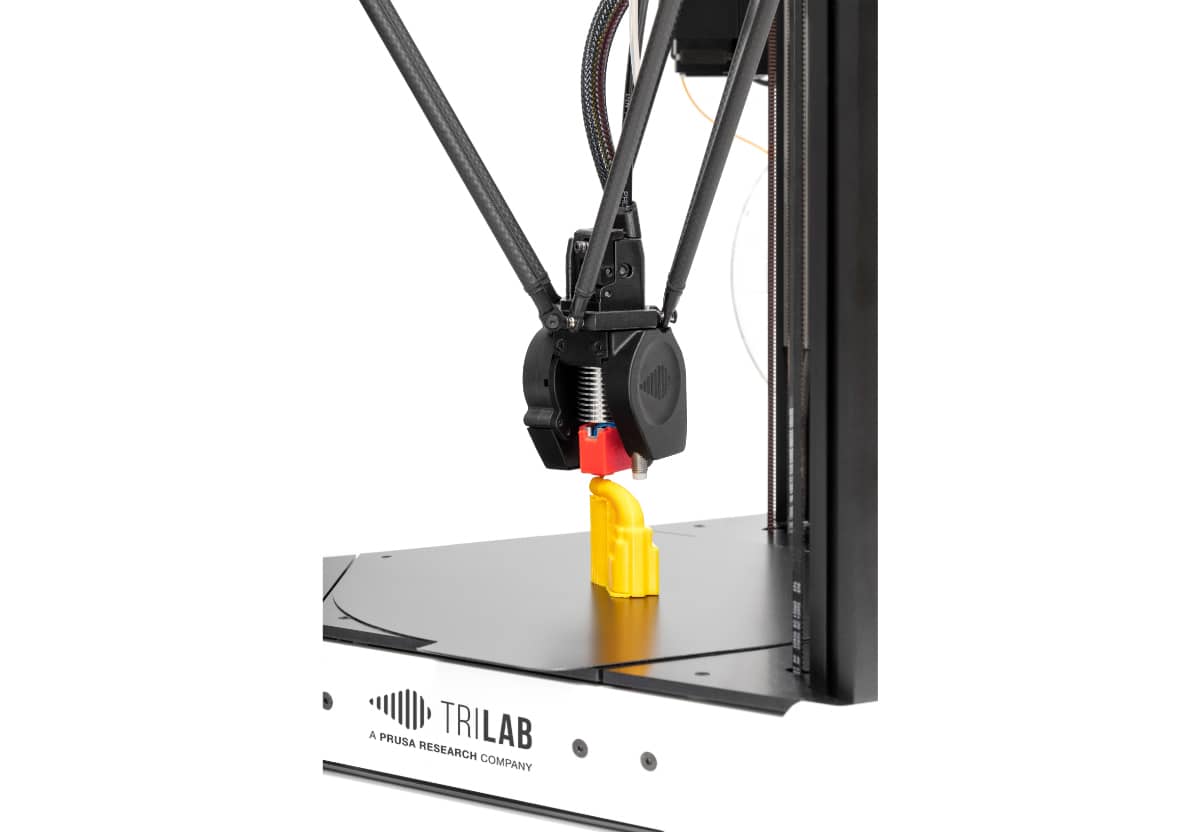 FlexPrint 2 expansion for DeltiQ 2
An extruder developed by us, enables the flawless processing of more advanced materials, such as highly flexible materials (TPU, TPE) and other tough materials (PA, PP). All thanks to a uniquely designed extruder that gets the material exactly to where it is needed.
These companies

rely on


our printers

Vetropack

Lasvit

Jetsurf

Fillamentum

Continental

Mergon

Vibracoustic

Solidvision

Alcaplast

Filament PM
UTB

We develop and tune our own accessories, they'll simplify your work and you'll be more efficient. They'll also expand the capabilities of your existing TRILAB printer.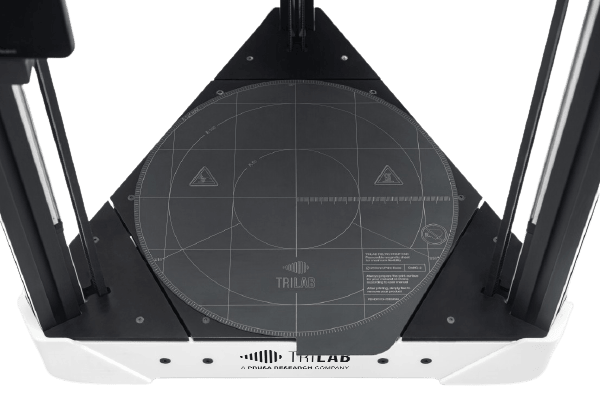 PrintPad
The flexible PrintPad provides a quick and easy way to remove the product after printing. In addition, they are magnetically removable, which guarantees their easy replacement. The standard PrintPad, covered with a smooth layer of PEI foil, is suitable for most materials, while the PrintPad with a powdered PEI surface is suitable for materials where a thick first layer or other form of adhesion is required.
V6 Volcano Hotend Replacement head
If you want to print faster, you can easily use an alternative printhead with the E3D V6 Volcano hot-end. Thanks to the larger nozzle (from 0.6 mm up to 1.2 mm wide), you can print even faster, and you can also print more mechanically resistant components.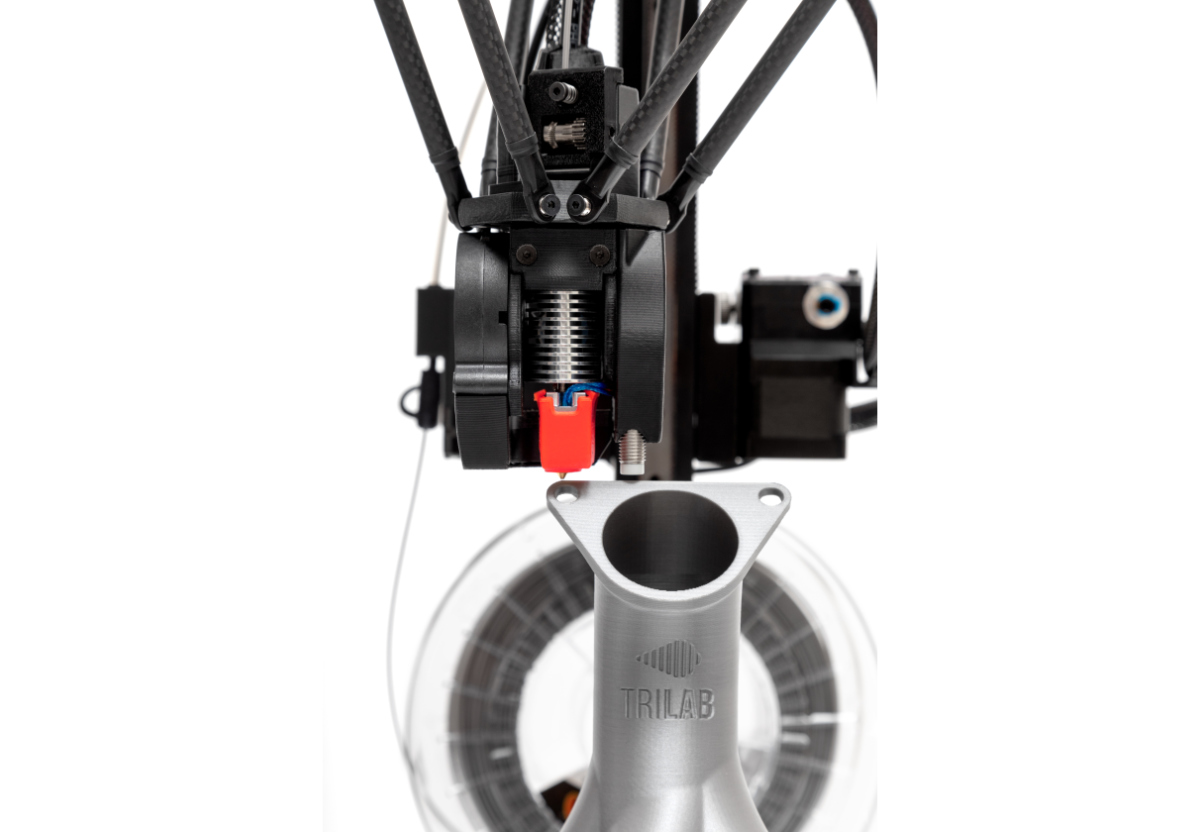 Operate the printer as you see fit. Using its own application on the DeltaControl wireless display comfortably in your hand, or in the docking station on the printer frame. Another option is the ability to control it from the WebControl web interface via your PC or Mac. And all of this either on the local network or via a secure remote connection.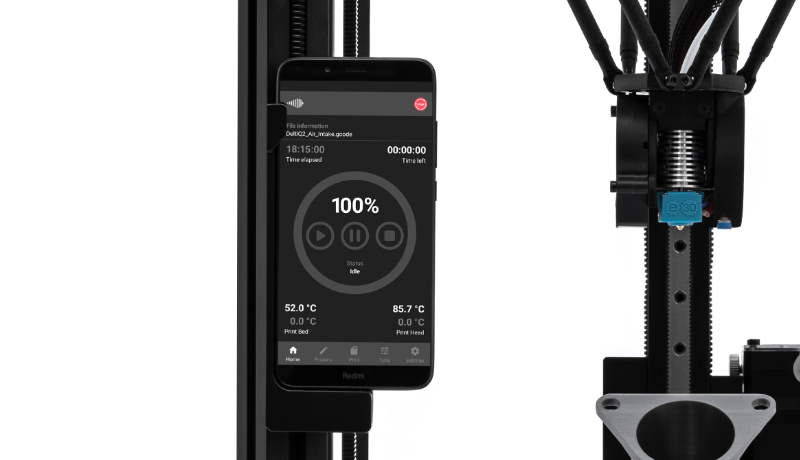 TRILAB DeltaControl
A wireless display, for which we have developed a special application to operate your 3D printer. You can take it anywhere and intuitively control all the basic functions of your printer with it, the display has a high resolution and is easily legible. The printer includes a DisplayHub and a docking station with an integrated charger.
TRILAB WebControl
The TRILAB WebControl interface allows the user to completely control the printer and set up a print directly from a PC, Mac or tablet via Wi-Fi or LAN. Alternatively, you can connect to the printer in the so-called Access Point mode of the 3D printer. And access to the printer is always protected with a password.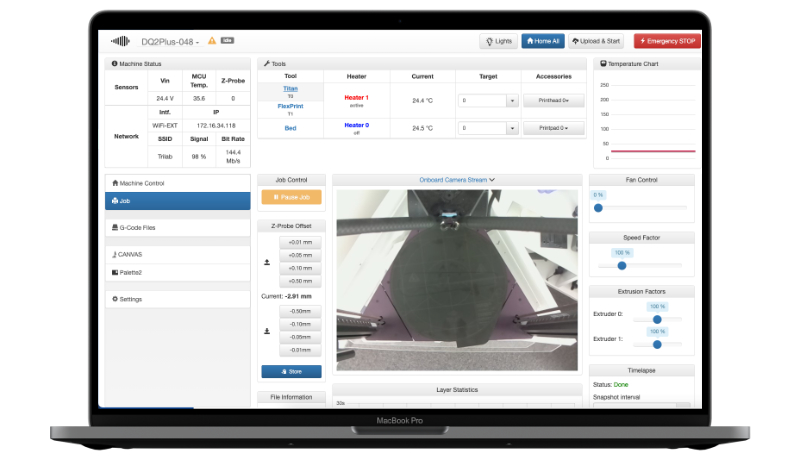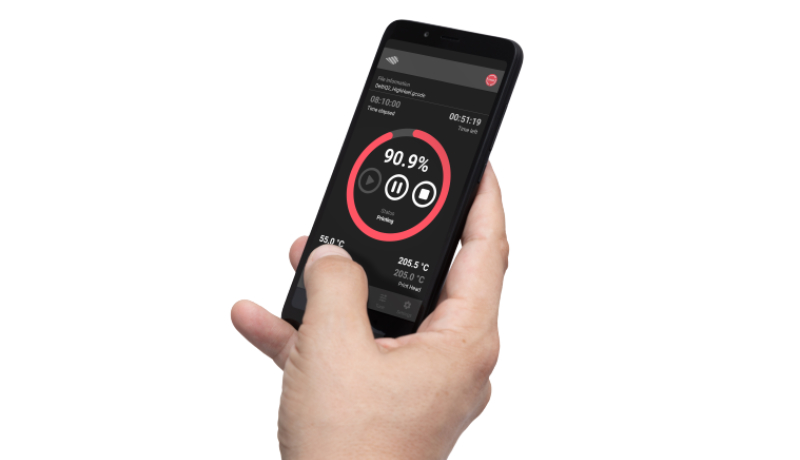 DeltaControl Application
An application that is available for standard Android devices and allows you to control the printer both locally or remotely. The advantage is the Bluetooth communication, thanks to which you can operate the printer online and offline directly from your phone.
Remote printer management (remote.it)
A web-based interface for remote printer management that allows you to easily operate your printer from anywhere over a secure VPN connection.
You can prepare print data for our 3D printers standard in the freely available PRUSA Slicer or KISSlicer slicers. Both of these programs contain pre-set profiles for TRILAB printers and various printing materials.
Made
and tuned
in the Czech Republic
DeltiQ printers are the direct result of the cooperation of our development and production teams. Subsequent real testing and output control give you the assurance that you will get a perfectly tuned machine.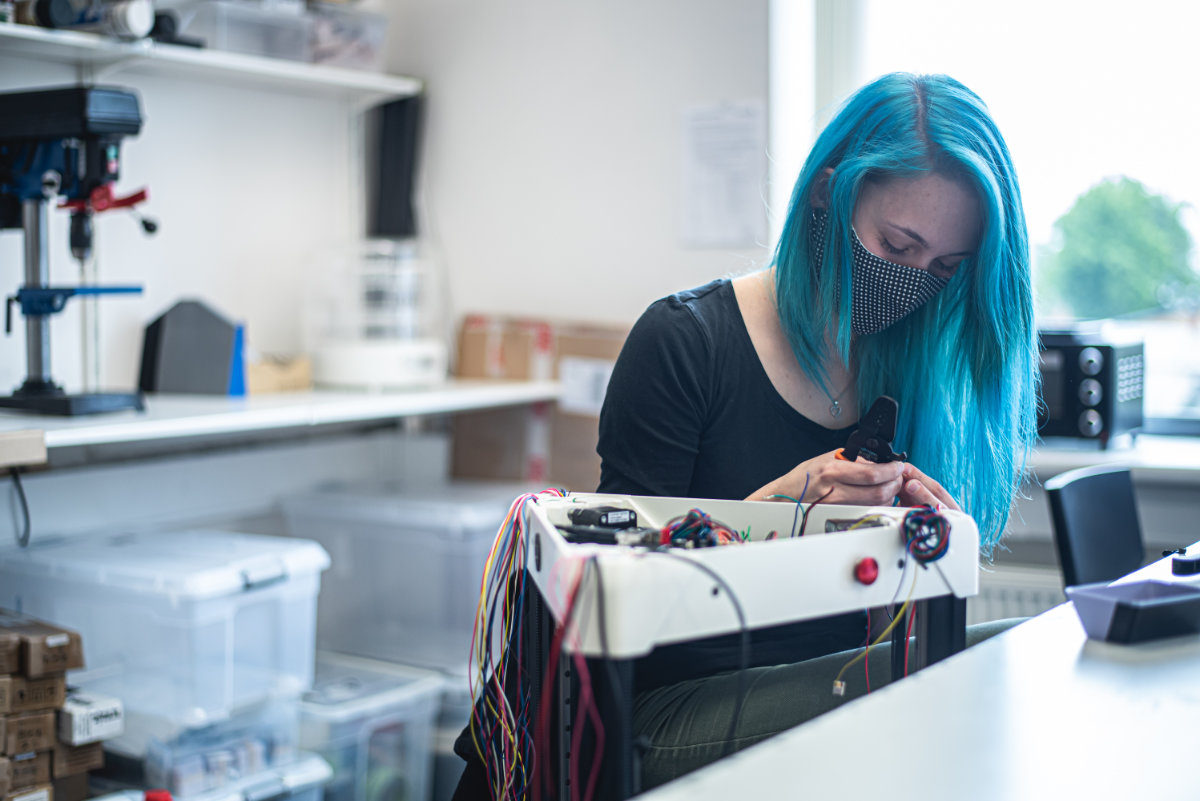 68 parameters
Only perfectly tuned machines pass our demanding output control.

1,4 kg
The amount of material used during testing.