Our dream was to develop, manufacture and deliver the best products and services that we can also be proud of. Today, we're still doing that with our 3D printing solutions for companies!
We are excited that our solutions are used by hundreds of professionals daily, from all corners of the globe. Thanks to the possibility of remotely accessing all of our current 3D printers, we are now able to operate, service and support foreign clients as well as our Czech ones. And that's why we're improving and furthering our impact with each new product.
Our customers, reviewers and competitors know about the top print quality of our DeltiQ delta printers. In addition, the new AzteQ Industrial now adds even greater spatial and material freedom to its users thanks to the closed and actively heated chamber, in addition to the already unbeatable print quality. Therefore, we are sure that the readiness of the equipment for printing industrial materials, together with the design of the machine and its new functions, will attract even the most demanding customers.
Thank you for your support. We believe that our paths will cross in the near future and that you will also become a satisfied owner of a 3D printer from the TRILAB AzteQ Industrial series.
But we're already working on other 3D printing solutions that will cover further creative areas in additive manufacturing. Follow our website and social pages (Facebook and Instagram), where we'll be publishing everything that's new with us!
Vojtěch Tambor and Michal Boháč
TRILAB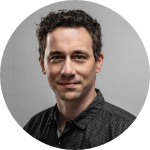 Vojtěch Tambor, PhD

Technical Director, CEO
Vojtech has a background in biomedicine and got his PhD in biomarker research. After discovering the potential of 3D printing technologies in R&D environment, he designed his first 3D printer, which was based on delta kinematics. In 2016 he founded TRILAB, an additive manufacturing company. Currently, Vojtech is head of R&D at TRILAB and focuses on providing solutions to customers that allow them expand their businesses and pursue new, demanding and previously unreachable projects.