TRILAB DeltiQ

2



Different
at First Sight
.. and not just in its looks. The TRILAB DeltiQ 2 is a reliable printer made with high-quality parts that's used for professional printing in business and in the lab.
6
reasons to get the TRILAB DeltiQ
2
1 Top-notch prints
The model is static during printing, which results in perfect quality print over the entirety of the model's height.
2  Unconventional
Unconventional and unexpected model orientation can be safely printed for an even better surface quality.
3  Complete solution
A tuned printer for professionals, a complete made-to-order package — starting from a demo print, a suitable configuration proposal, delivery with installation to service and application support.
4  Universal
You will be blown away by the range of materials that can be processed by this printer - from common filaments, to modern and advanced materials such as composites or flexibles.
5  Smart
Control the printer according to your needs - with your hand, using the DeltaControl wireless display, using our app in your smartphone or remotely using the WebControl interface.
6  Beautiful
As a unique industry standout, you'll have trouble keeping your eyes of it thanks to the grace of the delta movements.
Reviews

of TRILAB DeltiQ 2
"TRILAB DeltiQ 2 – A masterclass in delta FDM 3D printing."

"If you're looking for a professional 3D print solution, then the Trilab DeltiQ 2 is incredible."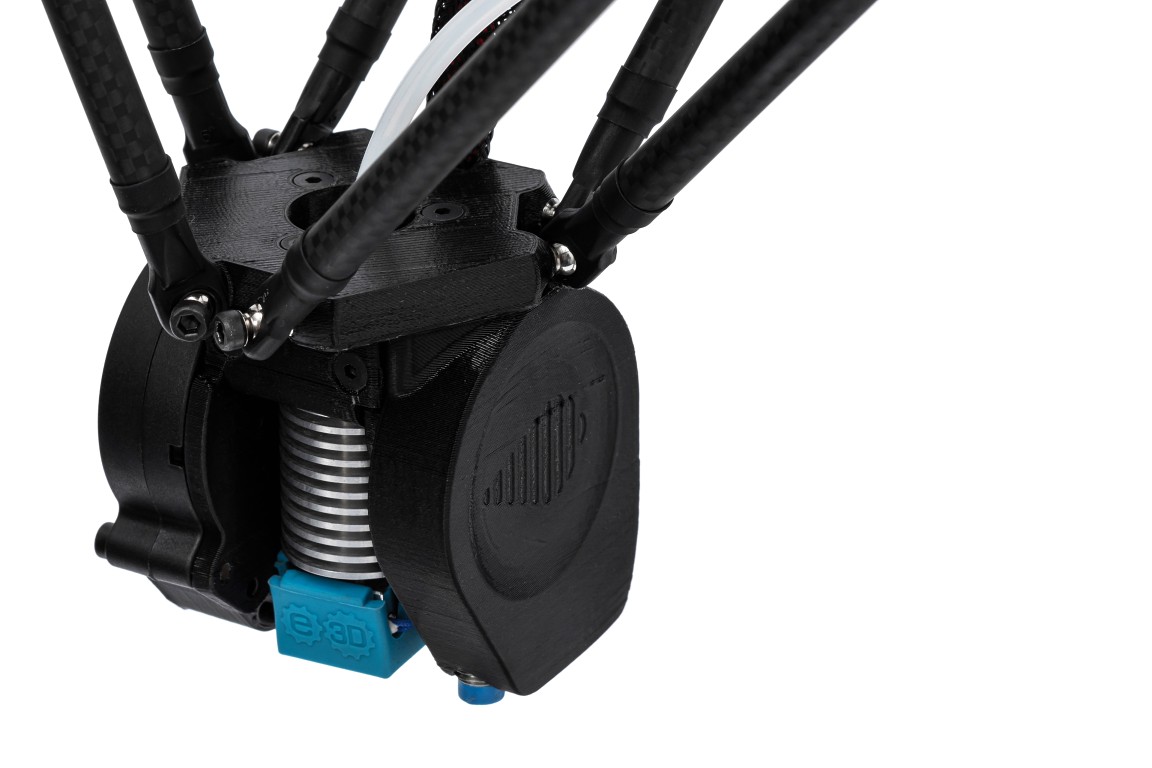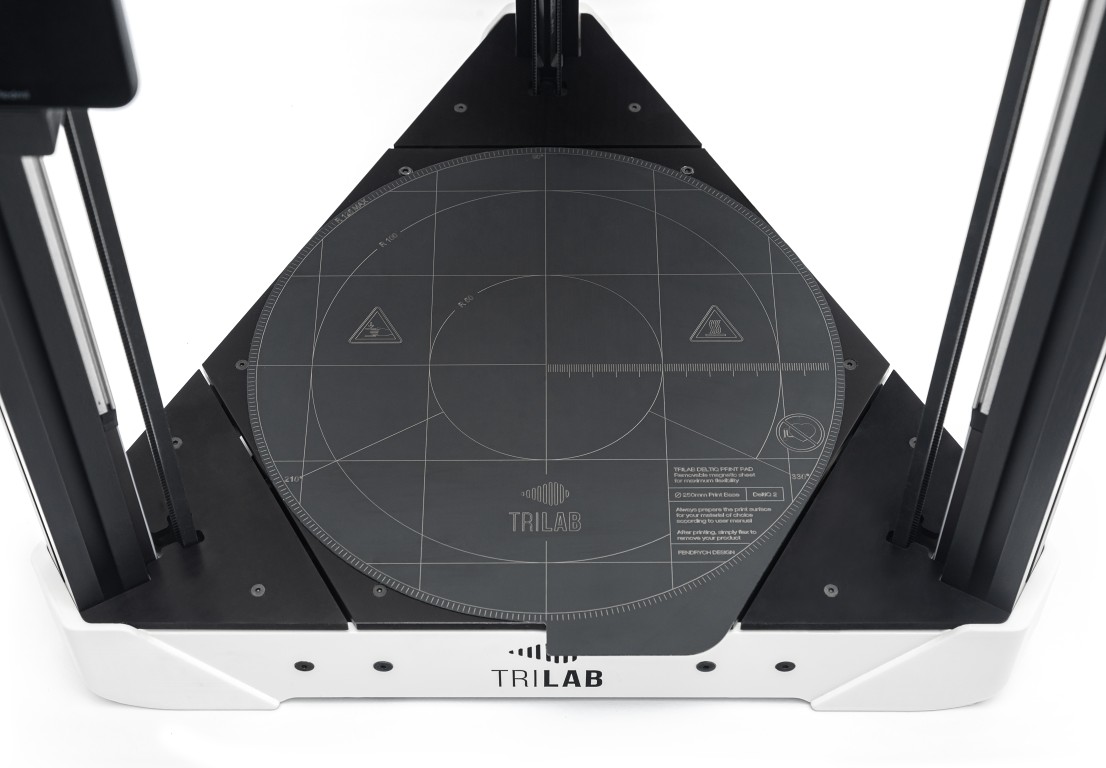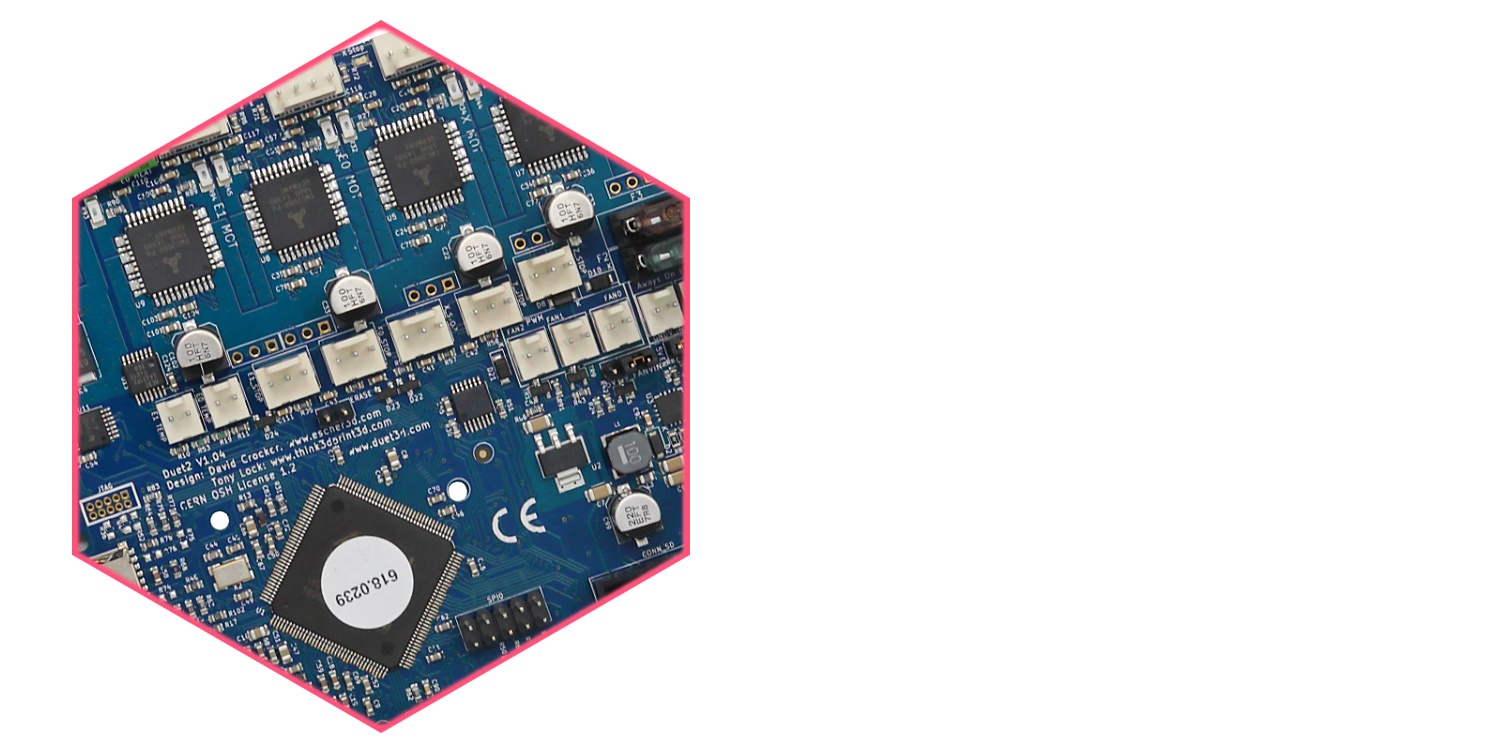 Firm Frame
The rigid frame is the basis of our machine. The smart "Tripple Lock" system ensures the perfect fixture between the parts.
Lightweight Printhead
Without a heavy extruder motor, our printhead minimizes the inertia-induced effects on print quality. That results in a very fast 3D printing while keeping the quality the best possible.
Swappable Sheets
Swappable PrintPad sheets
Fast and easy way to remove finished print. It's also the first step to fully automated additive manufacturing. And you can choose PrintPad surface that fits your needs.
Two Extruders
No compromises! DeltiQ 2 takes advantage of two easily swappable extruders: The bowden E3D Titan for perfect surface quality and remote direct drive Zesty Nimble for flexible materials.
Smart Electronics Inside
With stellar 32bit controller, DeltiQ 2 will process complex motion with easy, provide silent motor movement and enable online access to the printer.
A support

you can depend on
We do not produce thousands of printers. As a result, we guarantee exquisite product support to every customer worldwide. Something other vendors can only promise and HARDLY deliver.
Print
anything
With DeltiQ 2 you are unstoppable in your pursuit for perfect prints. Wide palette of supported materials, two perfect extruders and stimulating freedom of the print orientation. That's what conjures a smile on your face.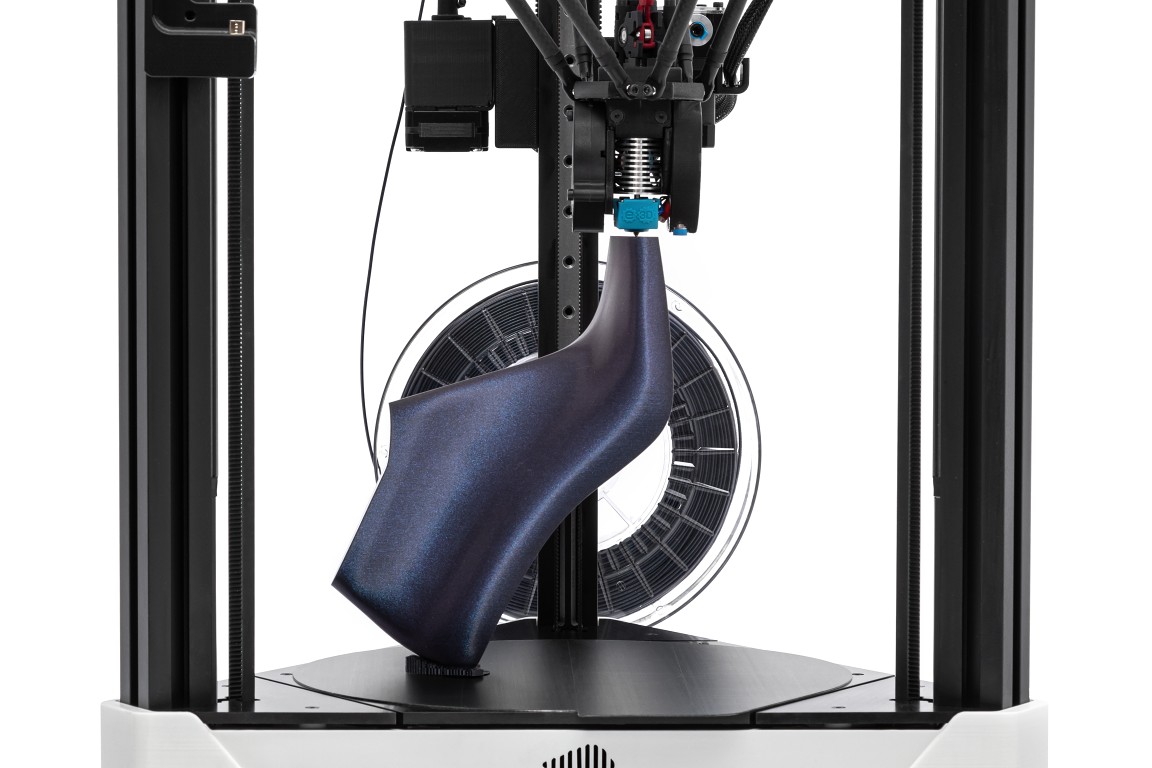 Standard models and materials
Standard models from PLA, PETG or CPE materials printed on DeltiQ 2 with ease, fast and in perfect surface quality.
Bigger and difficult models
Bigger and more difficult models from PLA, PETG or CPE, printed on DeltiQ 2 without or with limited need of supports from the same material.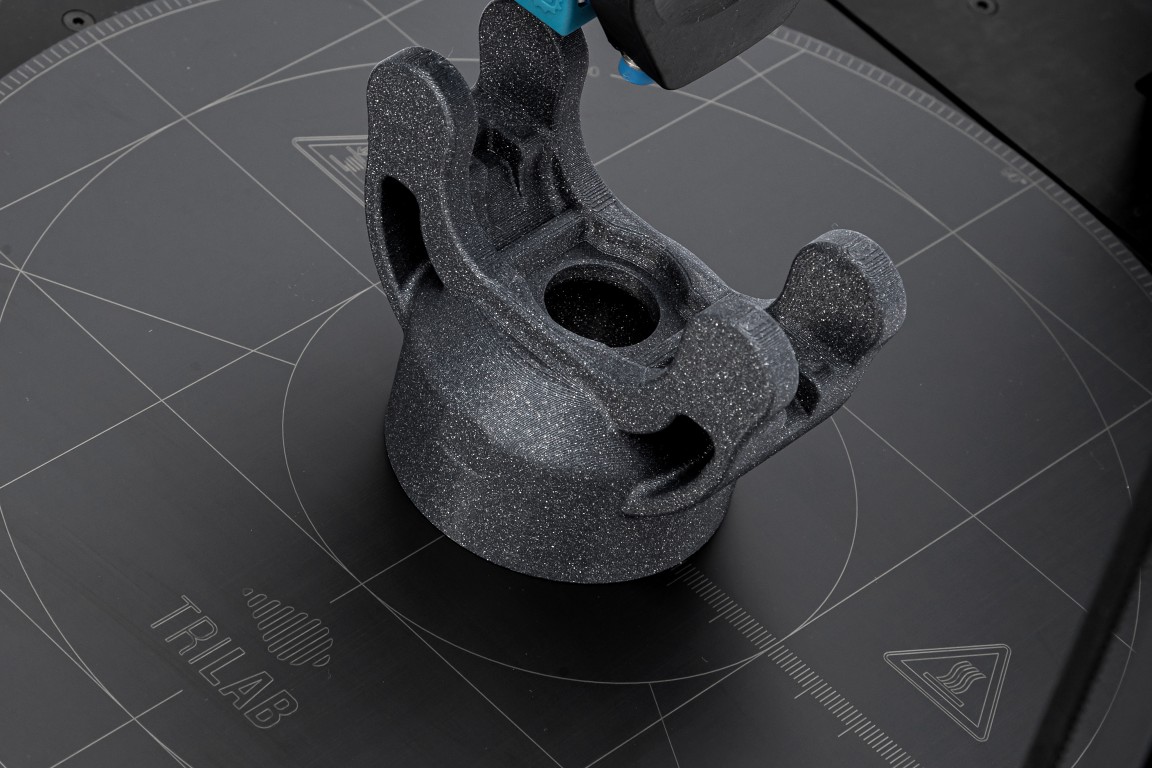 Technical and composite materials
Models from technical materials like ABS/ASA, Nylon or Nylon with CF printed on DeltiQ 2 simply by using hardened nozzle.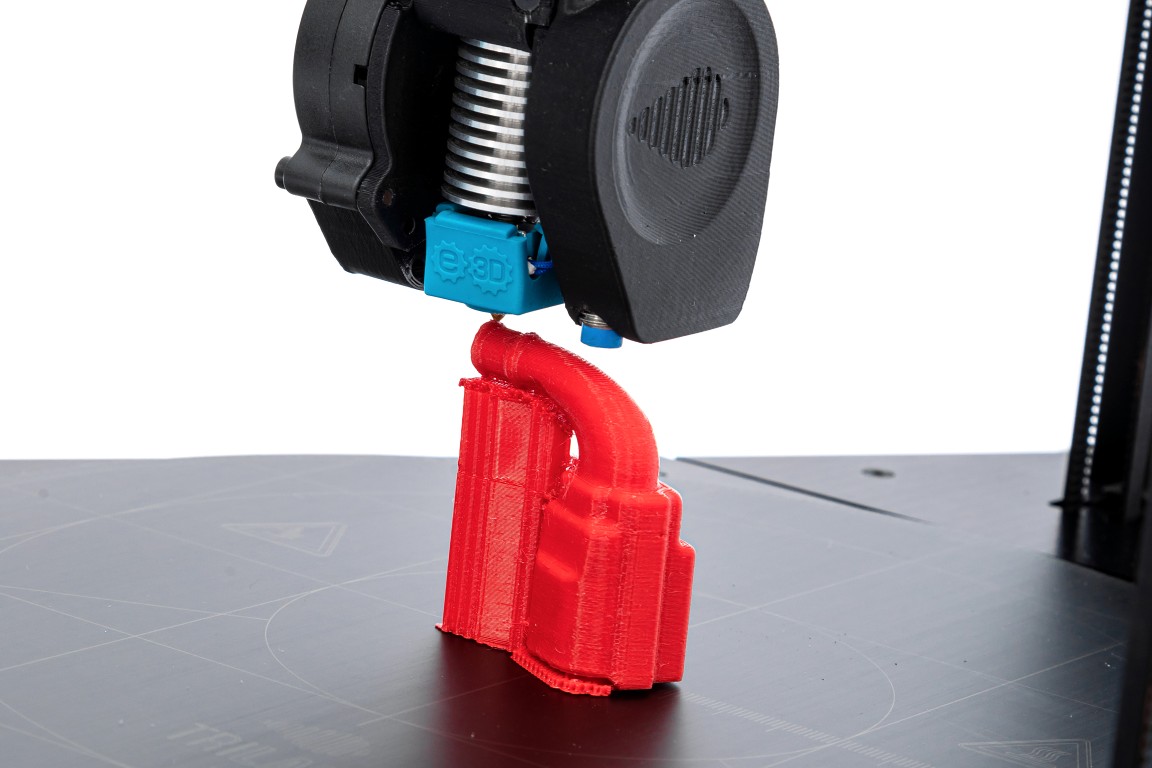 Flexible materials
Printing from TPU or TPE is piece of cake using unique delta printer - TRILAB DeltiQ with FlexPrint extension.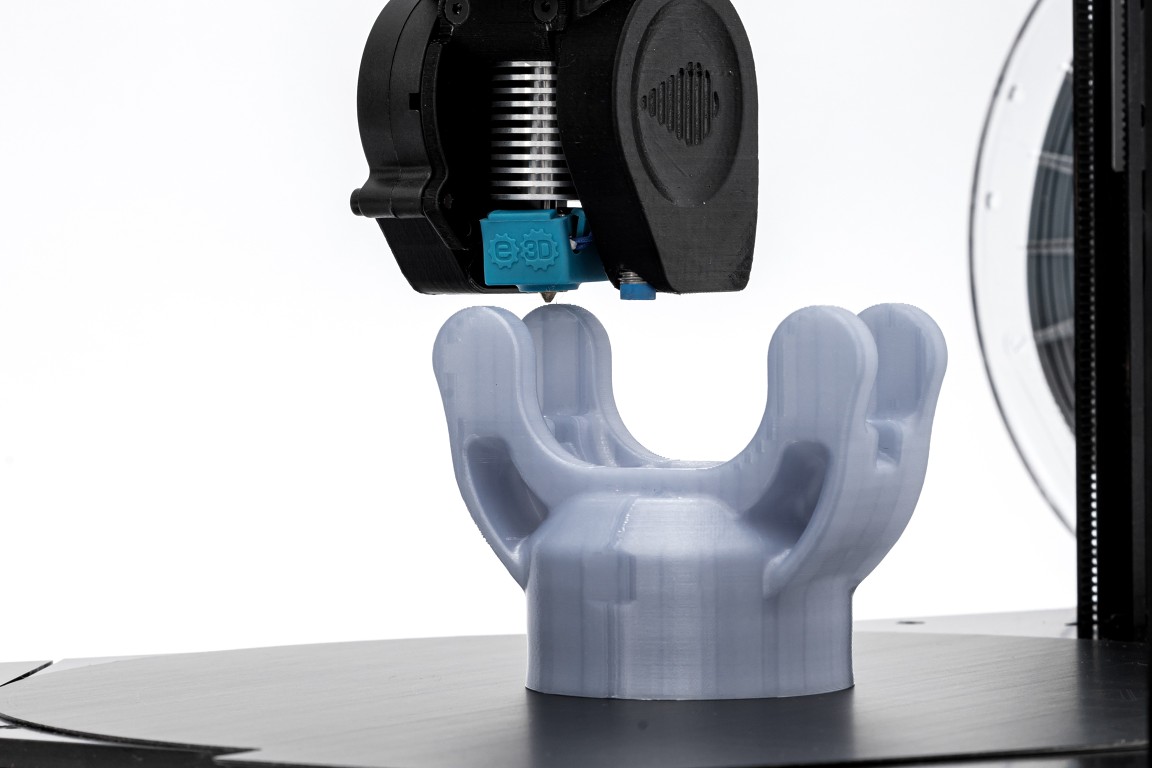 Wax filaments
Positive models for the subsequent production of precision casting molds, simply printed on DeltiQ 2 using wax or PMMA filaments.
Vetropack

Lasvit

Jetsurf

Fillamentum

Continental

Mergon

Vibracoustic

Solidvision

Alcaplast

Filament PM
UTB

TRILAB FlexPrint 2
Printing from TPU or TPE is piece of cake using TRILAB DeltiQ 2 with FlexPrint 2 extension. With a unique remote direct drive extruder your TRILAB DeltiQ 2 will be able to print even the softest flexible materials with no hassle...
TRILAB unique remote direct drive is the optional addon. But hand on hearth – you will love this solution from the start!
A right fit for every project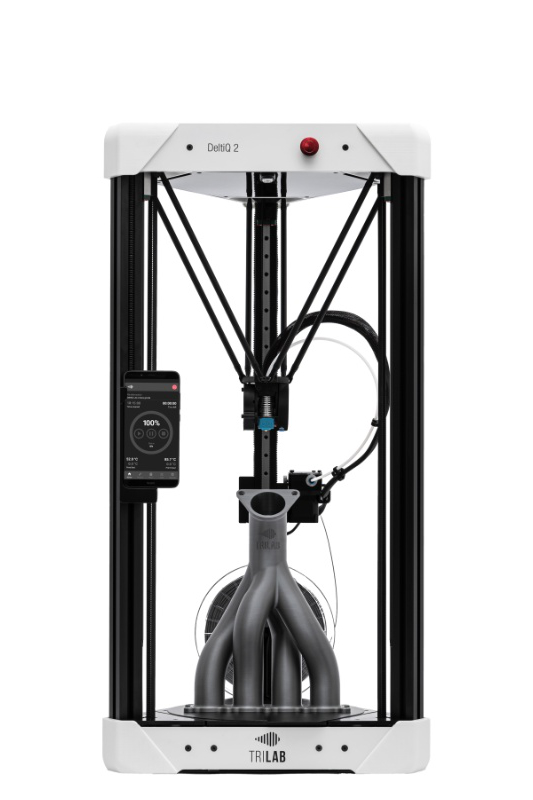 TRILAB DeltiQ 2
Standard model with a decent print volume.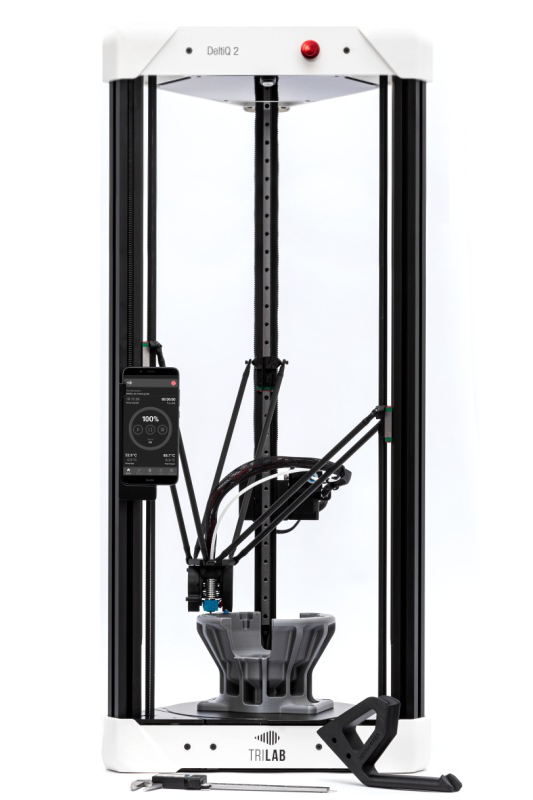 TRILAB DeltiQ 2 Plus
Extended model with much bigger print volume.
Printer Specification

Print technology
Fused Deposition Modelling (FDM)
Print Volume
DeltiQ 2: Ø 250mm (X, Y) × 300mm (Z)
DeltiQ 2 Plus: Ø 250mm (X, Y) × 500mm (Z)
Printhead
Light printhead; E3D V6 all-metal hotend; Easily swappable as a complete assembly
Extruder
E3D Titan geared extruder, bowden setup
Optional "FlexPrint Edition" - Zesty Nimble extruder for demanding and flex filaments
Print Platform
Massive, 5 mm thick aluminium heated print base
Swappable magnetic PrintPad sheet with PEI surface
PrintPad sheets with alternative surfaces available
Control interface
Wireless 5.45" IPS "DeltaControl" display, incl. charging dock
DeltaControl app; iOS/Android
WebControl interface; PC/Mac
Connectivity
LAN or WIFI with local or remote access
3x USB: WIFI/LAN module/USB drive/Webcam/Palette 2
Print Monitoring
Multicolor LED indicator for visual print status overview
Built-in camera with print illumination
Supported input formats
STL, gcode; standard slicers (Kisslicer, Cura, PrusaSlicer, Slic3r, Simplify3D)
Operating printer temperature
Recommended printer operating temperature is 20 - 32 ° C (68 - 90 ° F), storage temperature 0 - 32 ° C (32 - 90 ° F)
Dimensions and weight
(printer)
DeltiQ 2: 41×50×81 cm / 10 kg
DeltiQ 2 Plus: 41×50×98 cm / 11 kg
Dimensions and weight
(whole package)
DeltiQ 2: 49×53×105 cm / 18 kg
DeltiQ 2 Plus: 49×53×105 cm / 19 kg
Power
Input 100-240 V, Output 24 V, 250 W
Print Output

X/Y resolution
According to the used nozzle in the range of 0.25-1.2 mm, standard 0.4 mm
Z resolution
A layer height of down to 50 microns, maximum layer height depends on the used nozzle
Maximum nozzle temperature
Standard up to 300 °C
Maximum print bed temperature
105 °C
Materials

Filament diameter
1.75 mm
Compatible materials
Standard: PLA, PETG/CPE, ABS/ASA, PETG-CF, PC, PP, PVA, BVOH, PACF, PAGF
FlexPrint extension: nylon/PA, flexible materials (TPE, TPU)