The TRILAB DeltiQ


Different at First Sight

... and not just in its looks. The TRILAB DeltiQ is a reliable printer made with high-quality parts that's used for professional printing in business and in the lab.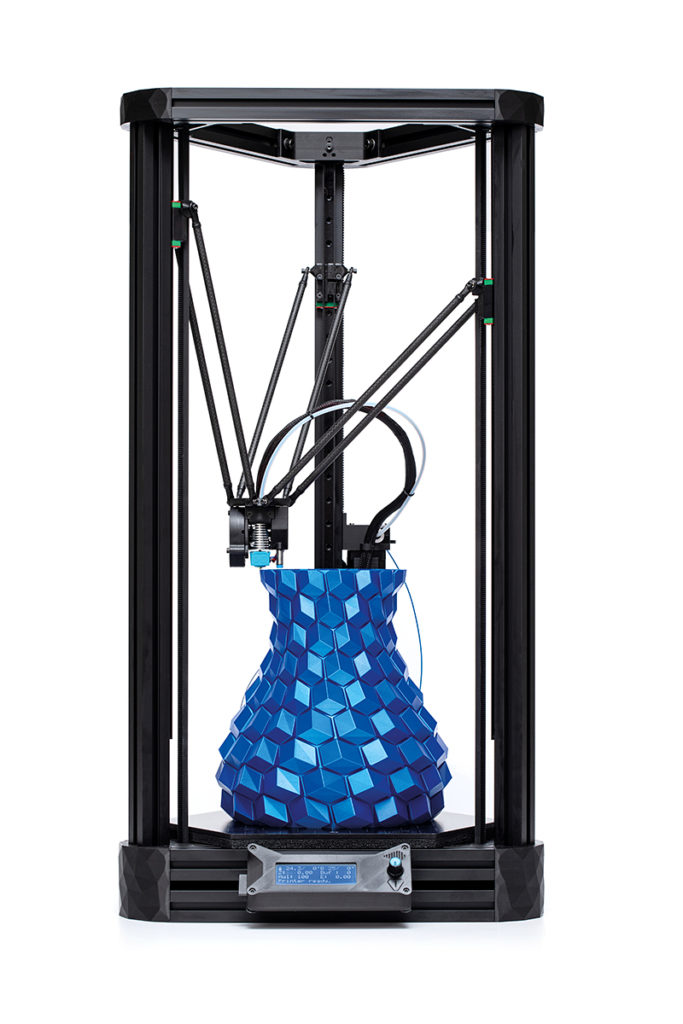 A Light Print Head
Packed with modern technologies down to the very last gram. Suspended on firm yet light carbon arms. Make no compromises—print fast while still printing precisely.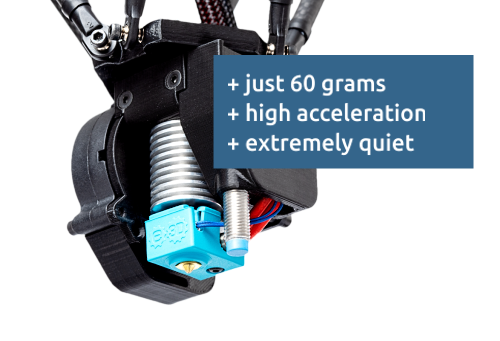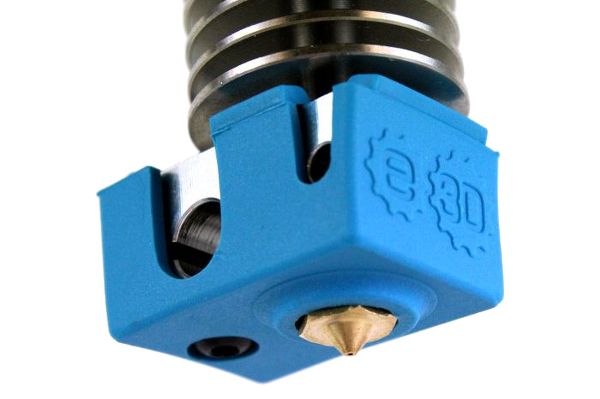 The E3D v6 hotend ensures proper melting and batching for every printable plastic. Thanks to this, your prints' surfaces are perfectly uniform every time.
Precisely Targeted Cooling
The cooling tip aims at the freshly printed material precisely, and doesn't cool the nozzle. The cooling is designed to provide the very best results for overhangs and bridges.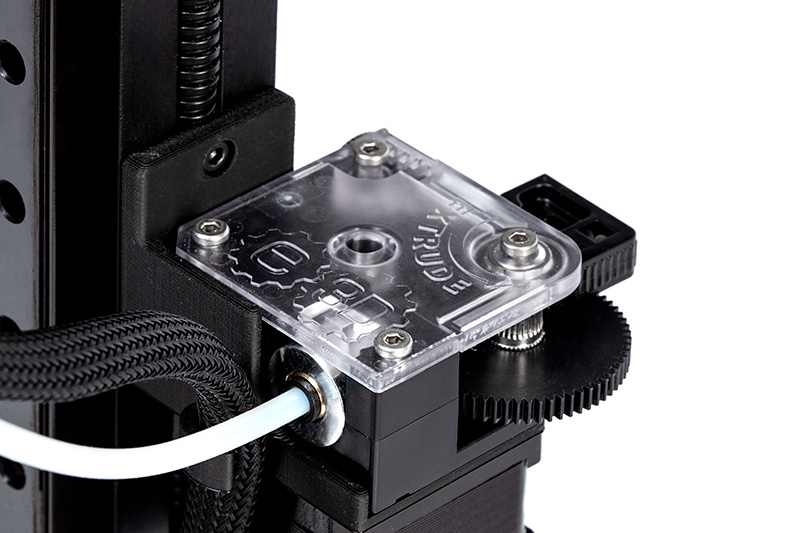 A Strong Extruder That's Outside the Head
The E3D Titan geared extruder is located outside of the moving head—but this doesn't prevent it from applying a strong force to the filament as it's laid down. And meanwhile if you're printing extreme materials, we can mount the Zesty Nimble extruder on request.
A Printing Bed That's Science Fiction Made Real
It's a half a centimeter of honest aluminum alloy that won't bend even at its top temperature of 105 °C, and it distributes heat perfectly. Its milled surface is covered with a resistant Polyetherimide (PEI) coating that will keep every build in place. Under the bed, you'll also find insulation that speeds up heating and saves energy during operation.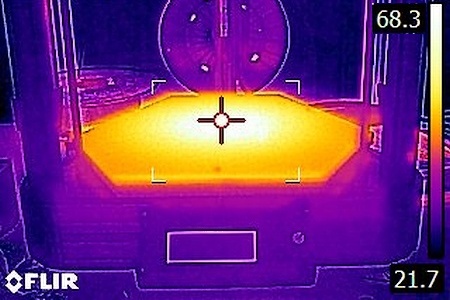 ✓ PEI – flawless adhesion
✓ bed insulation
✓ even heating
Packed with the best
3D printing technologies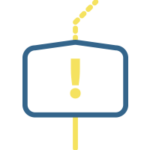 Missing-filament Detection
The DeltiQ can suspend the printing process and wait for a new filament to be loaded in.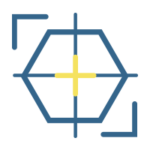 An Automated Calibration Probe
The printer adjusts the head's height above the bed on its own, touch-free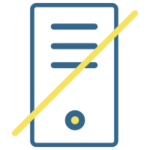 Print With or Without a PC
The built-in display and card reader mean there's no risk of errors caused by a frozen or slow PC.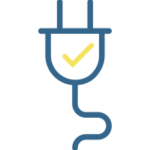 Power-loss Protection
Unstable power from the grid? No problem. It won't upset the printer.
Printing-collision Detection
The DeltiQ automatically detects barriers during printing and stops the process.
Turns Off Automatically
The DeltiQ can turn off automatically when printing is done.
In a frame you can rely on.
Or sit on.
The whole printer is fitted into a firm three-sided frame with exceptional stability (and also exceptional portability if you need it). You won't find any weak points in a DeltiQ printer.
This printer's linear guidance system ensures precise and repeatable print-head positioning. This prevents the printing errors that would come from loose guidance.
A Tough Three-sided Design
A frame that's made from high-quality construction profiles and specially-designed corner sections ensure that this printer is stable under all conditions.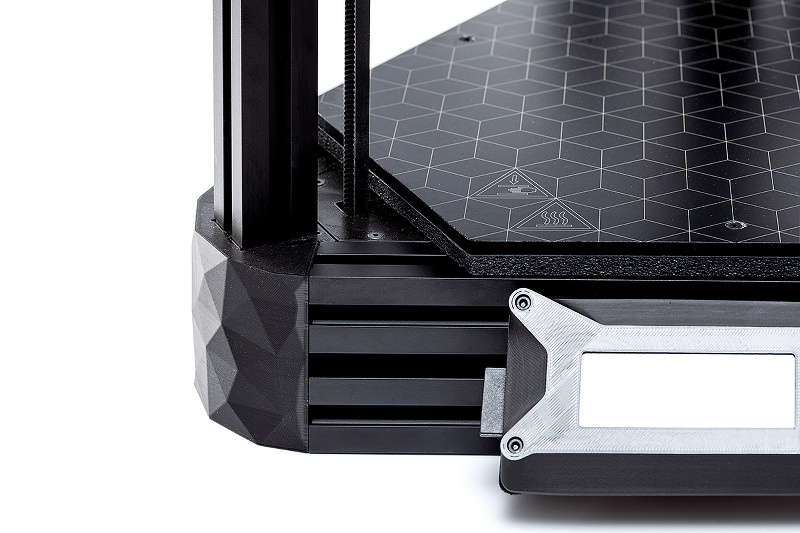 Beautiful, Graceful, and Peaceful!
No ugly cable bundles sticking out. You'll gladly put your DeltiQ on display in your office, and its noise won't distract you—but the graceful motions of its delta kinematics just might!
Made Precisely for Your Needs
You can get the DeltiQ in any of several sizes, designed precisely to match the size of the print area and build height you need. And even the DeltiQ XL prints with the same high precision as all the rest.
A great tabletop printer for small projects.
Printing diameter: 180 mm
Height up to 200 mm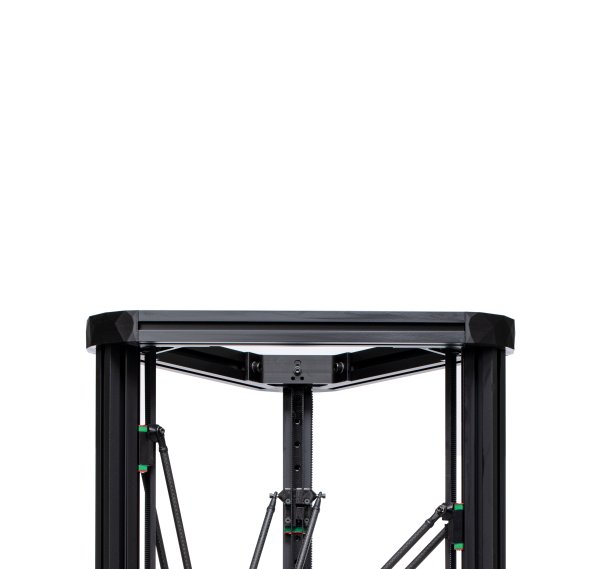 A very universal tool for every challenge.
Printing diameter: 250 mm
Height up to 300 mm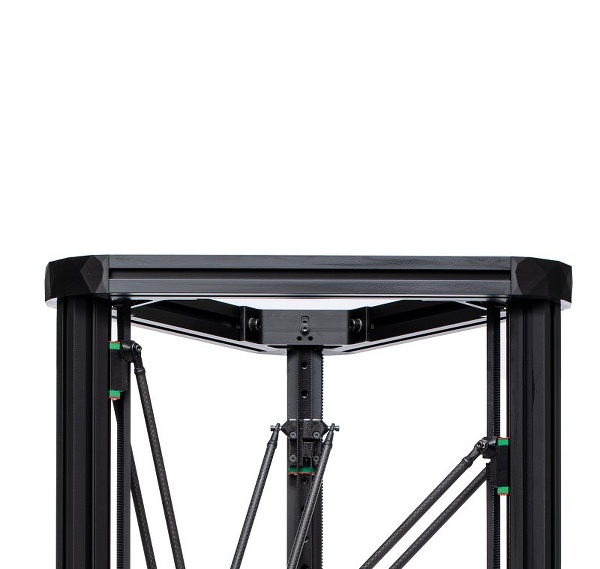 When you need tall prints at great quality.
Printing diameter: 250 mm
Height up to 500 mm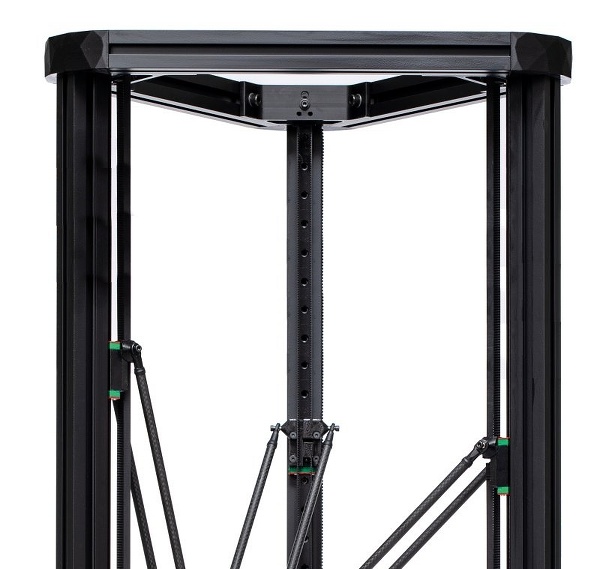 Worried you won't get full use out of a 3D printer?
Are you worried that you aren't yet ready to get full use out of a printer? Afraid to invest in it? Then just give it a trial run! Write us and send us your model, and we'll print it to order at any size you need. Or borrow a printer! We can gladly provide short-term test rentals with the option to buy once you've been convinced by the DeltiQ.
Just write us.
.
Printer Specifications

3D printing technology
Fused deposition modelling (FDM), plastic filament melting
Print area
DeltiQ M: Ø 180mm (X, Y) x 200mm (Z)
DeltiQ L: Ø 250mm (X, Y) x 300mm (Z)
DeltiQ XL: Ø 250mm (X, Y) x 500mm (Z)
Heated bed
5mm heated aluminum plate, PEI printing surface
LCD with SD card reader, USB interface, optional WiFi and Ethernet
Supported print formats
STL, gcode; any standard slicer (Simplify3D, Cura, Slic3r, Kisslicer)
Dimensions / weight
DeltiQ M: 35x35x65 cm / 13 kg
DeltiQ L: 40x40x80 cm / 15 kg
DeltiQ XL: 40x40x100 cm / 18 kg
Power supply
Input 100-240V, output 24V, 250W
Print Output

X/Y resolution
Given by the used nozzle in the range 0.25-1.2 mm, standard 0.4mm
Resolution Z
A layer height of down to 50 microns, the maximum layer height depends on the nozzle
used
Hotend and extruder
E3D v6 all-metal hotend, E3D Titan extruder, Zesty Nimble extruder
Standard up to 300°C, with upgraded temperature sensor up to 400°C
Maximum bed temperature
105°C
Materials

Filament diameter
1.75mm, optional 2.85mm / 3.00mm
PLA, ABS, HIPS, ASA, PET, nylon, polycarbonate, flexible materials, filled or abrasive
filaments
Print materials and accessories can be purchased, please contact us.