Become a TRILAB

3D printer distributor
Whether you're targeting the production sphere or individuals like designers, architects and scientists, TRILAB professional printers will fulfill these demands. What do you get when partnering with TRILAB? Besides a precisely tuned printer ready to sell, our distributors receive detailed training and technical support.


Training


We'll teach you how to operate, tune, and service the printer for you and your customers

Technical support
Our service specialist is available by phone and email

Service


We're able to handle 90% of various issues over the phone

Fully tuned printer
You'll receive a perfectly loaded and tuned printer right from the get go

Marketing


All of our marketing materials & documents are available to push forward your sales (photos, videos, labels)
Interested in the conditions of partnership with TRILAB? Get in touch with us.
Who are we looking for?
Our distributors are our partners. We devote a lot of our time to building strong relationships and that is why we demand the same in return. It is important to us that we:
Build long-term relationships and grow together
Provide sustainable productivity to our end clients
Break through into other markets with our premium products
Our
products
When purchasing a 3D printer from TRILAB, you won't simply end up with a box of hardware. We're here to support you and even provide training so you can fully take advantage of that precisely built machine.
TRILAB AzteQ Industrial
This industrial delta printer features a closed printing chamber for first-rate 3D printing without material or spatial compromises. The swappable magnetic printhead is equipped with an auto-calibrated strain gauge allowing for even easier 3D printing.
TRILAB DeltiQ 2
It is different from other printers. And not just because we say it is. TRILAB DeltiQ 2 is a reliable printer built from quality parts, which are also used for professional 3D printing in companies and laboratories.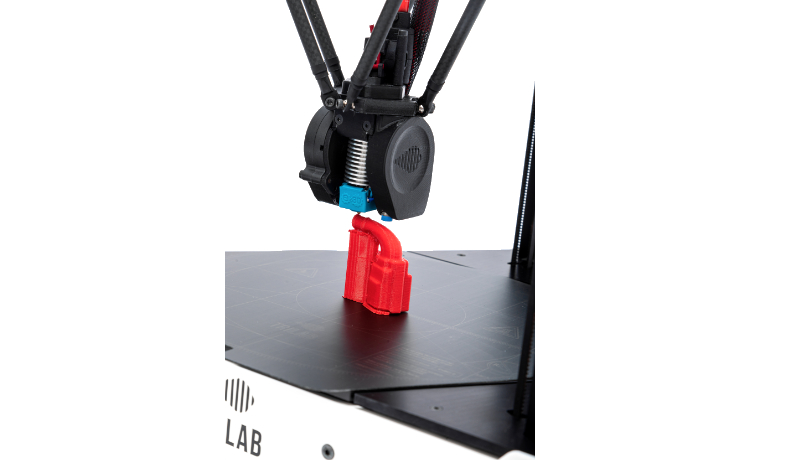 FlexPrint 2 expansion for DeltiQ 2
An extruder developed by us, enables the flawless processing of more advanced materials, such as highly flexible materials (TPU, TPE) and other tough materials (PA, PP). All thanks to a uniquely designed extruder that gets the material exactly to where it is needed.
PrintPad
The flexible PrintPad provides a quick and easy way to remove the product after printing. In addition, they are magnetically removable, which guarantees their easy replacement. The standard PrintPad, covered with a smooth layer of PEI foil, is suitable for most materials, while the PrintPad with a powdered PEI surface is suitable for materials where a thick first layer or other form of adhesion is required.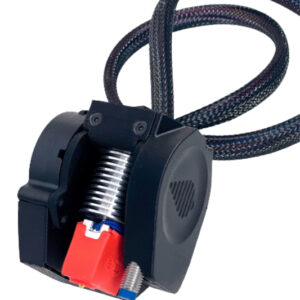 V6 Volcano Hotend Replacement head
If you want to print faster, you can easily use an alternative printhead with the E3D V6 Volcano hot-end. Thanks to the larger nozzle (from 0.6 mm up to 1.2 mm wide), you can print even faster, and you can also print more mechanically resistant components.
Our
services
We don't produce thousands of printers and that's why you can really offer excellent support directly to each and every customer. And even to the extent to which other manufacturers only dream of and would be hard pressed to actually deliver.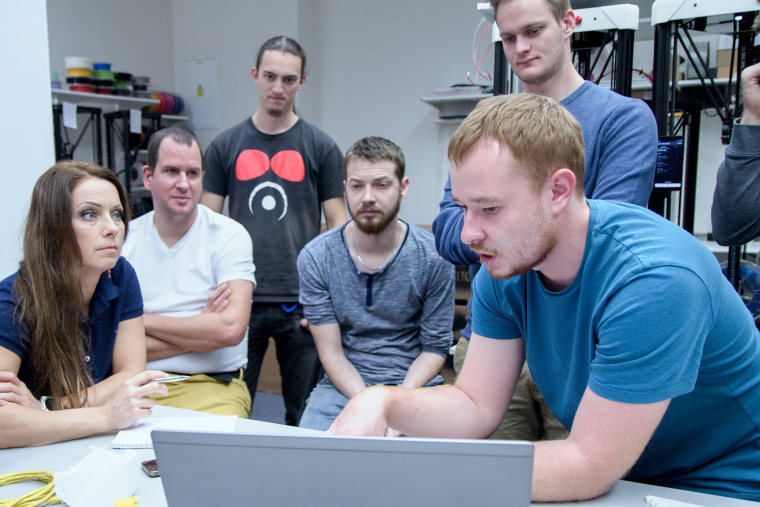 Thorough training
We'll teach you and your colleagues how to use the printer and if you are interested, we will also teach you the basic principles of modeling for 3D printing.
Direct access to technicians
You won't have to explain the same problem to five different helpdesk employees, as is the case with competing companies.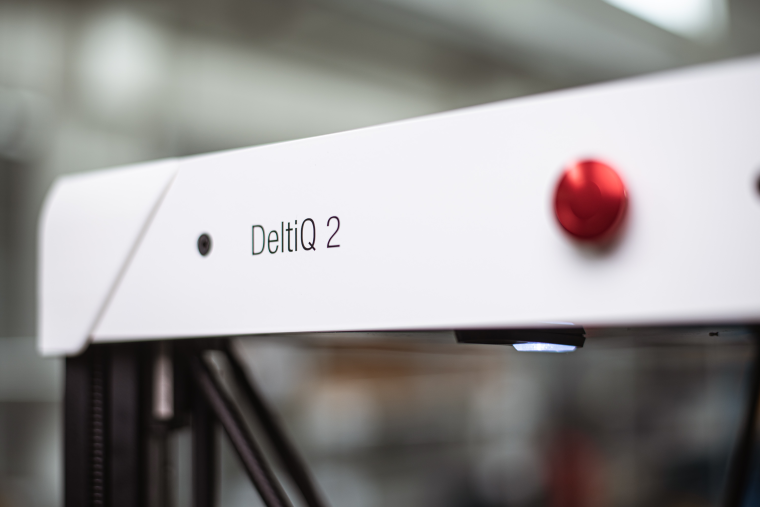 Remote control capabilites
We supply a remote control connection to the printer, standard. Should any problem arise, our specialist will be able to immediately identify the problem and provide quick guidance.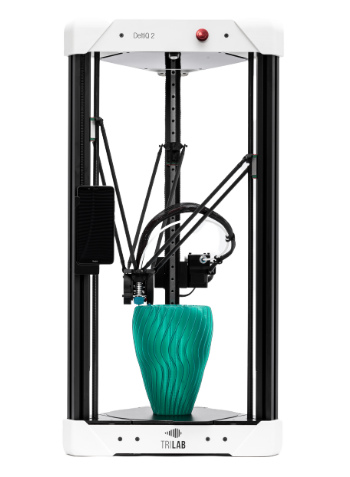 Made
and tuned
in the Czech Republic
DeltiQ printers are the direct result of the cooperation of our development and production teams. Subsequent real testing and output control give you the assurance that you will get a perfectly tuned machine.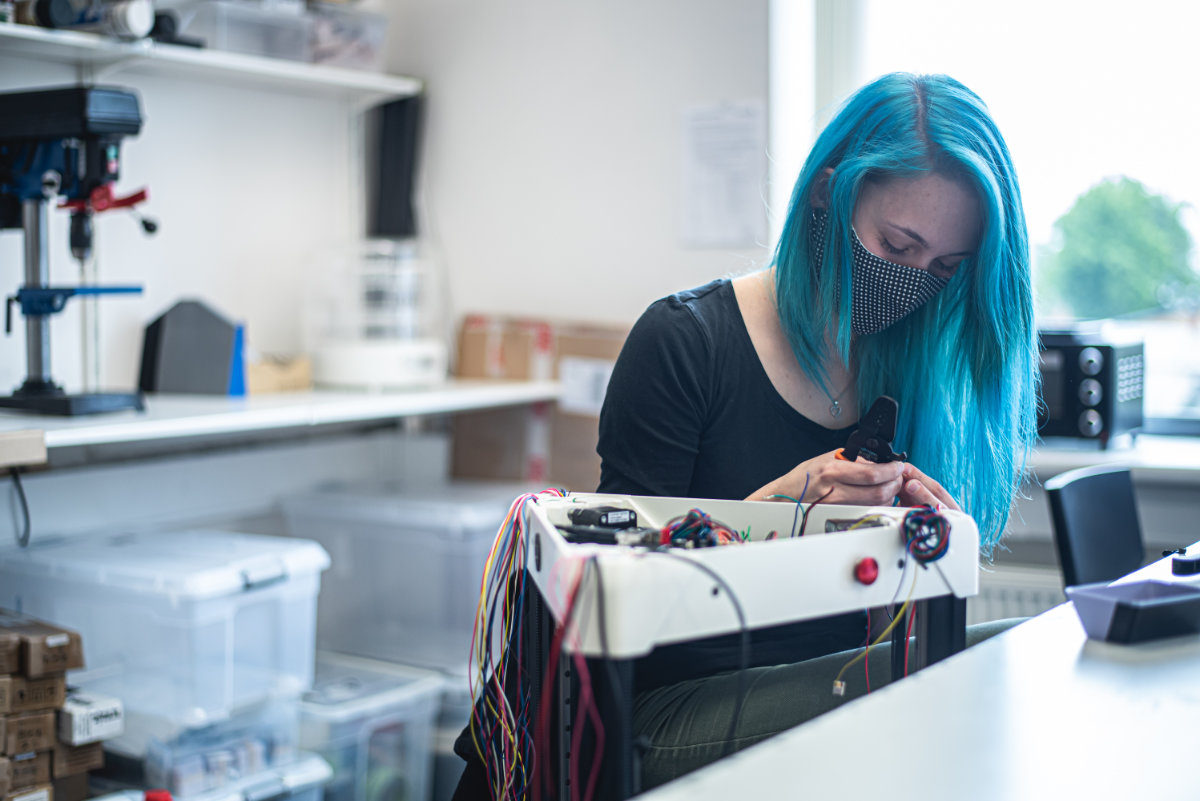 68 parameters
Only perfectly tuned machines pass our demanding output control.

1,4 kg
The amount of material used during testing.